Americans living in Spain are coming up to one of the biggest dates in their celebratory calendar, Thanksgiving.  Held every year on the fourth Thursday of November, this year it will be celebrated on the 23rd.
Thanksgiving is a national holiday in the US, the day of the year that records the most trips as people gather in family and friendship circles to celebrate over dinner. Although not technically celebrated outside the US, just like the adjacent Black Friday, Thanksgiving is increasingly expanding its footprint across the world wherever Americans settle.
The History And Alternative History of Thanksgiving
American children are taught that Thanksgiving has its origins in English colonists celebrating their first harvest with Native American Indians back in 1621, a year after the Pilgrims landed on the Mayflower to establish Plymouth Colony in Massachusetts. The first Thanksgiving was a celebration that lasted three days; something that sounds rather at odds with the Puritan values of early colonists.
When the colonists settled, the local Wampanoag tribe gave them seeds from local plants and taught them to fish (an educational exercise they probably came to regret), and the first harvest celebration featured pumpkins and nuts that had been grown as well as roasted turkey that roamed wild in those parts. After that first celebration, it was actually a number of years until Thanksgiving was celebrated again.
In 1789, President George Washington declared Thanksgiving a holiday, though it was celebrated on different days in different states. In 1863 President Lincoln concreted the date by proclaiming it to be the last Thursday of November, but it wasn't until 1941 that Congress legally decreed the day to be a national holiday.
There is, however, an alternative history of Thanksgiving that has its roots, not in English pilgrims, but in Spanish colonists. 
Trumpets heralded Don Pedro Menéndez de Avilés as he waded ashore in America on September 8, 1565. The Spanish admiral kissed a cross held aloft by the fleet's captain, Father Francisco Lopez, then claimed the land later known as Florida for both God and his country. This landing spectacle was being watched curiously by a local tribe known as the Timucuans who Don Pedro Menéndez then invited to a communal meal to give thanks for a successful voyage. 
Unlike the English pilgrim's meal, which featured fresh produce they had grown or hunted, the Spanish colonists' meal had to be assembled from provisions they had aboard their ships and likely consisted of hard biscuits and cocido, a rich garbanzo (chickpea) stew made with pork, garlic, saffron, cabbage and onion, all washed down with Spanish red wine. In 2025, St Augustine, as they called the settlement created where they landed, will celebrate its 460th anniversary and can boast being the oldest continuously settled town in the United States.
Thanksgiving Traditions
As with most celebratory days where family and friends gather together, the focal point is food. Thanksgiving dinner traditionally takes place around 4pm and can last for several hours. In America the dinner usually features a whole roast turkey with stuffing, sweet potatoes or mashed potatoes, cranberry sauce, green bean casserole and pumpkin pie. 
It's often the custom for a member of the family to give a speech about the things he or she gives thanks for before carving the turkey and in more religious households this can be accompanied by prayers. In the US it's also customary to see an American Football game or watch the Macy's store parade in New York.
Other traditions, some more modern than others, include the 'Turkey Trot' – a run of anything from 5k to a half marathon and food drives where packaged and canned goods are collected for distribution to those in need.
Hosting Thanksgiving In Spain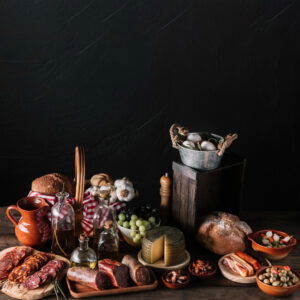 Americans coming to live in Spain generally don't give up celebrating Thanksgiving but can often elect to host their celebratory dinners with guests from other nations. Some go to great lengths to replicate all the traditional American dishes, whilst others choose to create a fusion dinner, taking the best of their national Thanksgiving recipes with some swaps to account for the best of Spanish ingredients. 
Increasingly, savvy restaurants in Spain recognise that offering a set-price Thanksgiving menu is a wise commercial choice so it's always worth American residents, and others who want to join the celebration, keeping an eye out for what's on offer locally.
For those wanting to host Thanksgiving dinner at home, opting to keep faithfully to the traditional recipes may involve a little legwork. Whole turkeys are not typically sold in Spanish supermarkets or butchers and likely need to be ordered in advance; it's also worth remembering that the average European oven is rather smaller than its American counterpart so it's best to measure it first to see what size of turkey will fit.
Regions with a high American resident population often have grocery shops catering for overseas customers, however, sites like tasteofamerica.es or Amazon open up the option of buying such goods as canned pumpkin puree and cranberry sauce for those who are prepared to pay a higher price than they would back in the States. 
Possibly the better and more practical option is to take the spirit of traditional Thanksgiving recipes but add a little Spanish spin.
Some wonderful Spanish-style appetisers include rounds of goat cheese rolled in ground almonds, fried and drizzled in local honey. Native dates stuffed with goat cheese and wrapped in bacon are a winner and platters of cheese, quince jelly, pan de datiles or pan de higo and Serrano or Iberico ham with salted almonds and olives are usually hoovered up by guests.
For those ordering a whole turkey from a butcher, introducing some Spanish ingredients to the cooking process can give a little pizzazz. Rather than slathering the bird in butter, drench it in good local olive oil and a generous sprinkling of Pimentón de la Vera (smoked paprika). Those feeling really lavish could pour a little Spanish brandy over the bird to mingle in with the base juices for the gravy.
A lovely spicy cooking chorizo or butifarra sausage, along with pine nuts and apples is a flavourful local addition to stuffing and chestnuts are also widely available in Spanish stores in November.
Rather than a sloppy green bean casserole, opt for fresh green beans pan-fried in olive oil with garlic and a generous sprinkling of sea salt and almond flakes.  Smashed, rather than mashed, potato with a dollop of butter and olive oil and some slices of Manchego melting through is velvety and luxurious. Try adding some smoked paprika and a little cumin to a side of carrots, drizzled in a little honey.
Spanish grocers boast a number of pumpkins and squashes at this time of year, so Instead of spending a lot on canned pumpkin puree, a better option can be to buy one fresh, roast it and add in the cinnamon, nutmeg and mace to your desired taste. For an extra Spanish twist, instead of the traditional pie, try a pumpkin burnt Basque cheesecake. Pecans are also widely available and a slosh of good Spanish sherry makes a wonderfully decadent Pecan Pie.
Luckily good Cava is plentiful and inexpensive so it's easy to celebrate Thanksgiving with fizz and the wide range of deep, fruity reds and dry, crisp whites widely available will ensure that there's something for all tastes to wash down a meal with. 
The most important thing of all, of course, is to give thanks and living in this wonderful country with its warm climate and fantastic produce is sure to be near the top of anyone's Thanksgiving list.
If you're an American living in Spain we'd love to hear how, or if, you celebrate Thanksgiving and what your top tips for dinner are.
Thank you for taking the time to read this article. Do remember to come back and check The Euro Weekly News website for all your up-to-date local and international news stories and remember, you can also follow us on Facebook and Instagram.